No more carrying around dirty underwear on your trips. Nudies Essentials are your perfect period underwear solution, providing comfort, confidence, convenience and a peace of mind.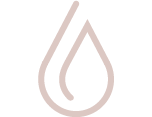 FUNCTION
The perfect period underwear to wear & discard. And your go-to panties for all your travel & feminine needs.

FIT
Cut low-rise with a seamless look & a full coverage back. Fits true to size, no bunching, so comfy it feels like your naked.

FABRIC
Easy, lightweight, breathable, high quality hypoallergenic fabric, 100% cotton. Available in 3 colors, made with low impact dyes.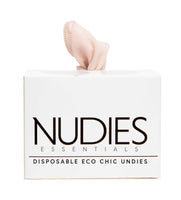 7 UNDIES PER PACK
100% BIODEGRADABLE
100% COTTON
KEEPS YOU FEELING DRY
BEST FOR MODERATE & LIGHT DAYS
DISPOSABLE PERIOD PANTY
HYGIENIC AND SANITARY NEEDS
Order Today
Nudies Essentials are the perfect back up underwear, packaged with 7 undies in a trendy discrete box that can be taken on-the-go. Best used for light to medium discharge or menstrual flow and for night time use, combine with sanitary wear for maximum protection. Our disposable undies have an upgraded design from the traditional "diaper look," they are designed out of 100% thin weight cotton and are made to look and feel just like regular underwear.
Our bikini briefs are perfect for those dealing with urinary incontinence, sanitary and personal hygiene issues, or just looking to stay dry and clean while traveling. Nudies Essentials are conveniently packaged for easy transport in your purse or overnight bag.
DOC-APPROVED HYGIENE FOR YOUR PRIVATE PARTS.
Have you ever wondered what is the healthiest underwear fabric for your Hoo-Ha? While changing undies may be an integral part of our routine, these little details may not be things the average person knows much about. Like, did you know that synthetic materials like nylon, polyester, and spandex trap heat and moisture or that there can be an expiration date for your underwear? These unspoken underwear rules can have an impact on your vaginal health — and, depending on the style, can even affect your mood!
So we chatted with an OB-GYN, and dug through several underwear hygiene studies, to collect some underwear rules to live by: Here's the deal, good ole cotton is the best underwear fabric. It's gentle on the skin, it's breathable and absorbent, which can help prevent those yucky yeast infections. The truth is that even clean washed underwear can contain up to 10,000 living bacteria. Talk about gross… so, taking care of your hygiene and those private parts are surely a reason why you shouldn't feel restricted to just one pair of undies per day. It keeps moisture from building up and creating an environment for bacteria.
Many of the disturbances in the natural pH balance of our va-jay jay can be, itching, odor or discharge. These symptoms can be decreased just by wearing cotton underwear. Can you believe it? It is especially important to wear 100% cotton undies throughout the summer months and times of high humidity because cotton is naturally absorbent and a hypoallergenic material.